In Study 201 and Study 12-230, DANYELZA® with GM-CSF was studied in an outpatient setting1
Study design1,2
A Phase II, open-label, single-arm, multicenter trial of 25 patients

22 patients were evaluated in the efficacy analysis of the ongoing study
A Phase I/II,* open-label, single-arm, single-center trial of 72 patients

38 patients were evaluated in the efficacy analysis
Endpoints1,2†
Primary

Overall response rate (ORR)
—

Complete response (CR)

—

Partial response (PR)
Secondary

Duration of response (DOR)

Safety
Eligibility criteria2
Inclusion

Patients must have R/R high-risk neuroblastoma in bone and/or bone marrow and demonstrated a PR, MR, or SD on prior therapy

All patients received at least 1 prior systemic therapy to treat disease outside of the bone and/or bone marrow

Study 201: Preplanned radiation to the primary site was allowed; assessment of response excluded sites that received radiation

Study 12-230: Radiation was permitted to bony and soft tissue lesions; assessment of response excluded sites that received radiation
Exclusion

Patients with progressive disease
*Phase I established the dose and assessed toxicity and Phase II assessed the anti-tumor activity and safety of DANYELZA with GM-CSF in patients with R/R high-risk neuroblastoma.1 †The major efficacy outcome measure was confirmed ORR according to the revised International Neuroblastoma Response Criteria (INRC), as determined by independent pathology and imaging review, that was confirmed by at least 1 subsequent assessment. Responses were observed in the bone, bone marrow, or both bone and bone marrow. DOR was an additional outcome efficacy measure in Study 201 and a major efficacy outcome in Study 12-230.2
MR=minor response; R/R=refractory or relapsed; SD=stable disease.
DANYELZA clinical trials included patients with R/R high-risk neuroblastoma in the bone and/or bone marrow1-3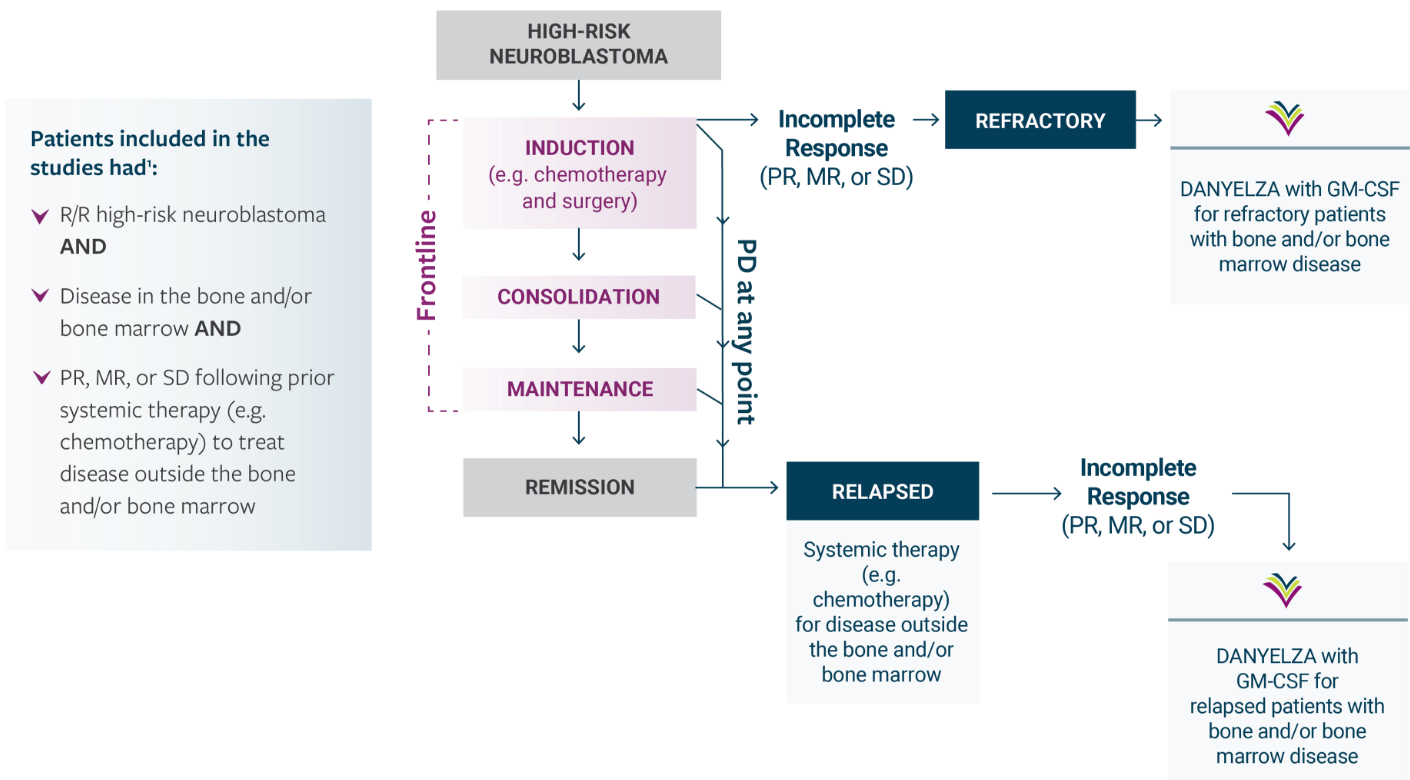 PD=progressive disease.
Across DANYELZA studies, baseline characteristics were similar and included patients with poor prognostic factors1,4,5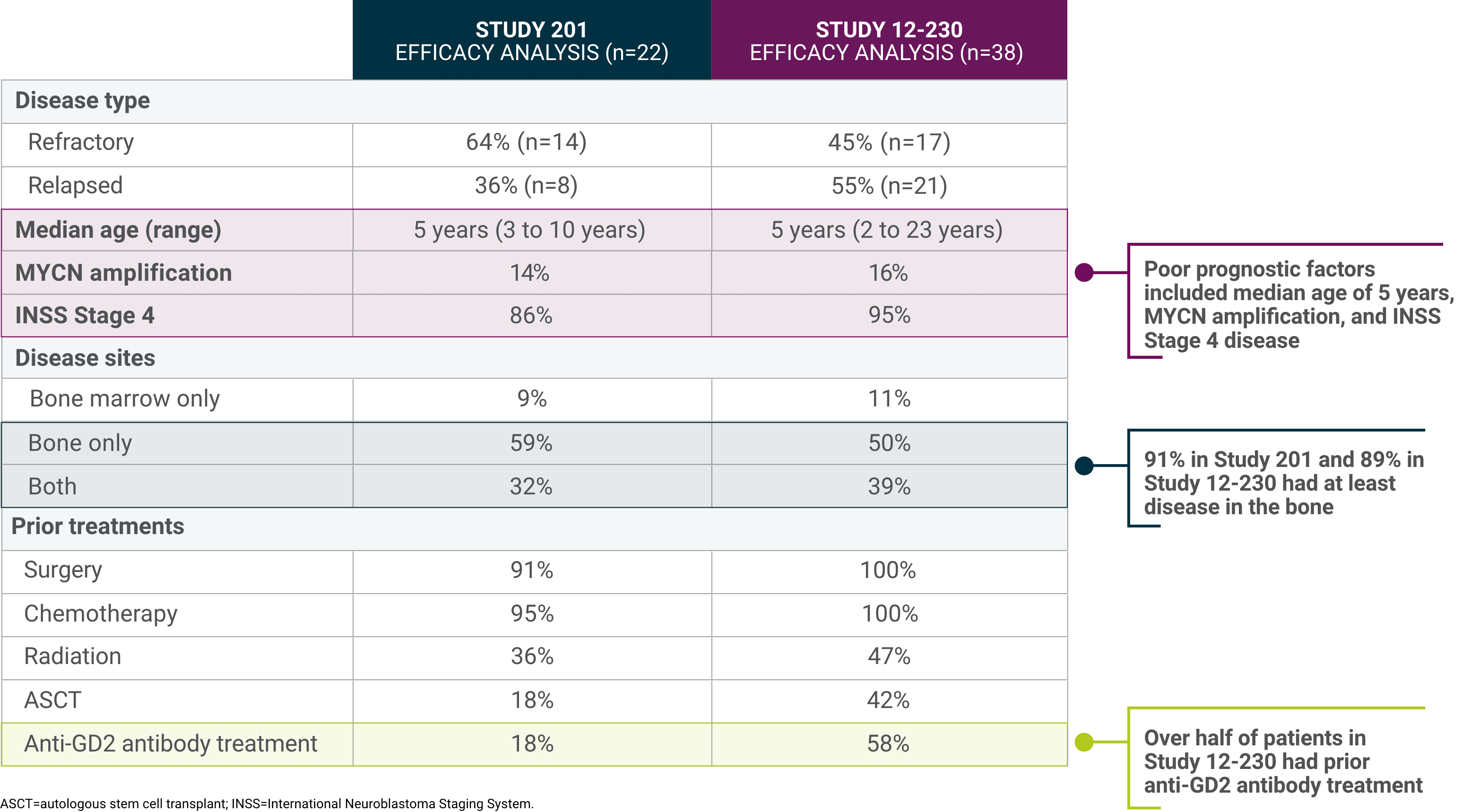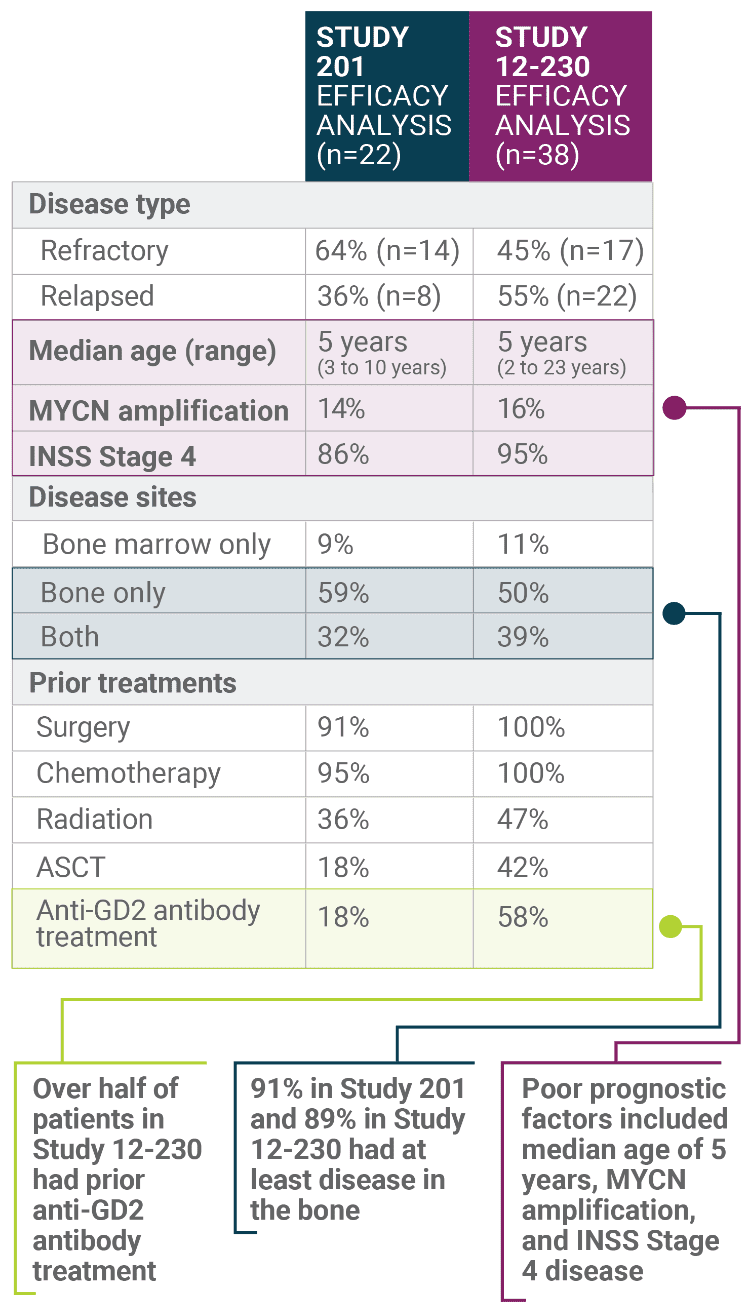 ASCT=autologous stem cell transplant; INSS=International Neuroblastoma Staging System.